Advocates Step Up to Mark SMA Awareness Month in US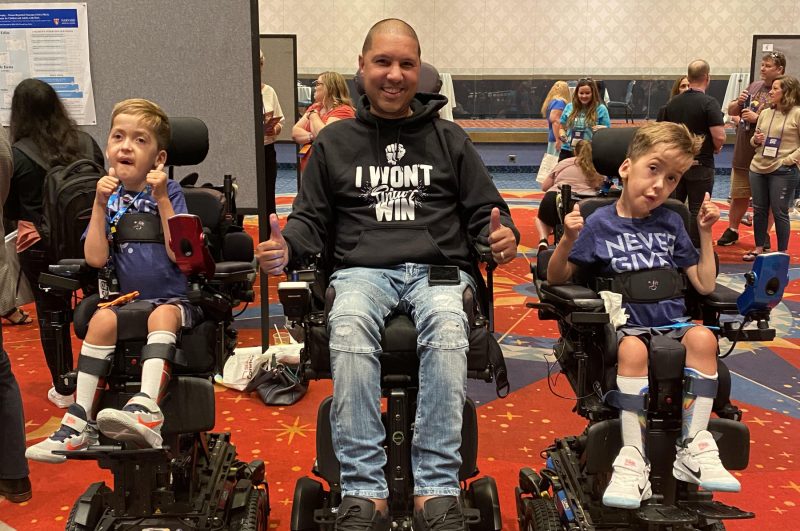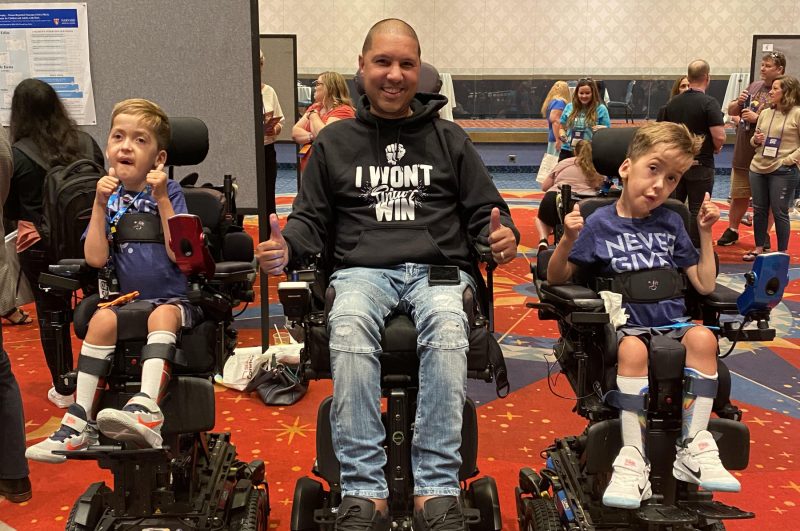 For most of his life, Jose Flores avoided interacting with the spinal muscular atrophy (SMA) community because he felt out of touch with it. An SMA type 4 patient, Flores didn't need a wheelchair until he was 22, and found it difficult emotionally to see children who weren't as mobile as he.
Then Flores met 6-year-old twins with SMA at a recent patient-focused conference in California. The boys, James and Bryce Eakin, both used power wheelchairs and chest straps to keep their torsos upright. Flores said he was moved by how positive the brothers were.
"That interaction, and that moment with me and them and their father and mother, really changed my life. They inspired me so much," Flores said in a video interview with SMA News Today. "That was the moment where I was like, there's more that I can be doing, I got to start doing more."
No SMA treatment options existed when Flores was born in 1977, and the prognosis for those diagnosed then was not good. By contrast, children with SMA can now receive treatments that can help them sit up, crawl, and, if given before symptoms appear, potentially meet age-appropriate developmental milestones. That sense of hope is driving Flores to make more of a difference, especially as SMA Awareness Month kicks off in August.
SMA, the leading genetic cause of death in infants and toddlers, occurs in between every 6,000–10,000 live births. Still, many people don't know about the condition or if they are carriers of the disease-causing genetic defect, Flores said. The whole idea behind awareness month is to change those statistics.
"Raising awareness is huge, because not only do we just get it out more into the public what SMA is and what it's all about, but we can actually get people involved, get people wanting to maybe even volunteer and if they can donate financially," Flores said.
Flores, a motivational speaker and former supervisor of a customer care team, wants to use the social media presence he's built for himself to help others with the same condition by training his spotlight on the disease. More than 30,000 people follow him across Facebook, Instagram, TikTok, and LinkedIn.
Determined to spread SMA awareness, support
As a micro-influencer, Flores plans on adding Cure SMA donation buttons to his posts. After attending a Cure SMA walk in Miami, Flores said he wants to create his own walk for the SMA community in nearby Fort Lauderdale, Florida.
The Cure SMA Walk-n-Roll is a nationwide fundraising event, and two will take place this month — on Aug. 20 in Northern California and Aug. 27 in Colorado. All Walk-n-Roll events in the fall are open for registration on the group's website.
Shaniqua Granby is also making her mark for awareness month. Granby, 31, a Maryland resident and SMA type 3 patient who works as an equal employment opportunity specialist, will share her story through a paid partnership with Genentech, the manufacturer of her SMA disease-modifying treatment, Evrysdi (risdiplam). Granby, who is part of a few community-oriented Facebook groups, also spoke at the CureSMA conference that Flores attended.
"We all struggle with the same disability, and just to know that someone else is there, that understands what you're going through I think is important," Granby said.
Granby has become involved with a local Maryland organization called the Fighting for Kaiden Foundation, started by the family of a 7-year-old boy with SMA. For SMA Awareness Month, Granby will be attending the nonprofit's 6th Annual Faces of SMA Celebration gala and silent auction Aug. 13.
Granby said bringing greater public understanding of the disease starts with simple steps, ensuring that when someone hears about SMA, it isn't for the first time.
"It's to inform people to let them know there is this disability and then to get support and to get funding so we can get treatment so we can have better health, better devices, that will help us improve our ability to live," Granby said.
The post Advocates Step Up to Mark SMA Awareness Month in US appeared first on SMA News Today.